Risco Agility™ 3 Wireless Alarm System
Agility™ 3 is a state-of-the-art 2-way wireless alarm system designed for the residential and small business markets that provides more than a standard home security system.
Agility™ 3 supports visual verification with a self monitoring Smartphone app (also available via web browser) which enables homeowners to control their alarm systems remotely as well as view real-time images taken inside their premises with the eyeWave™ wireless PIR camera detector which communicates with the RISCO Cloud server. This camera is pet-friendly and works in the dark too!
In the event of an alarm, the PIR camera is automatically activated and captures a sequence of images which it sends to users via RISCO's Smartphone/ web Application. This capability enables users to view the images and confirm if there is a crime in progress.
Agility™ 3 can be armed / disarmed from your mobile phone remotely and gives peace of mind.
The Agility™ 3 wireless security system can be enhanced with a wide range of accessories that provide additional protection against theft as well as protection against environmental hazards and providing elderly care.
Package & Price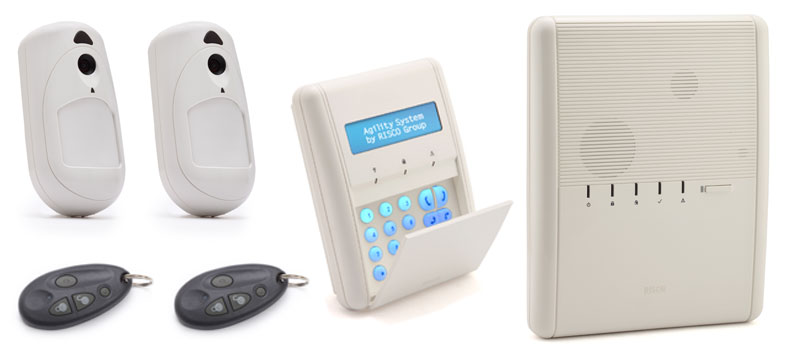 Agility 3G with PET Camera PIR Kit, includes:

Agility Control Panel complete with 3G/GSM module
Agility 2-Way LCD Keypad
2 x 2-way wireless Pet friendly camera PIR detector
2 x Wireless 4 button keyfobs
Plug pack to suit Agility Control Panel
Installed and configured from $1599 (customer to supply 3G SIM card with strong network strength/reception). If no mobile network is available, we can connect using IP over internet if you have a modem.
Extra Devices
Wireless Pet PIR Cam $175
Wireless External Siren and Strobe $175
Wireless Internal Screamer $175
Wireless Door Reed $175
Standard Wireless Pet PIR ( no camera ) $155
All prices inc GST
If you have any questions about the Agility 3, please fill out the form below with your contact details and we will contact you as soon as possible.